C-arm Table Accessories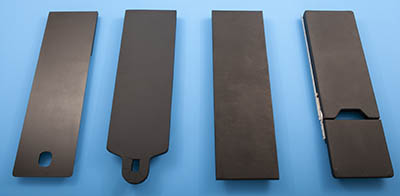 The following are the standard approved products and methods for the cleaning and disinfecting of c-arm table pads and most medical exam tables and medical stretcher pads.
Cleaning a c-arm table or other medical table pad
Option 1.
Wash the table pad with a generous application of neutral soap suds and lukewarm water. Do not immerse the pad. Rinse with water and dry.
Option 2.
Use a diluted bleach solution of 10-parts water to 1-part bleach.
Do not immerse. Bleach MUST be diluted to the 10:1 ratio or the medical table pad may disintegrate or dissolve. The life of the table pad will be greatly reduced if harsh cleaning agents are used. Wipe dry with a clean cloth. Do not let the cleaning agents dry on the pad.
All chemicals/solutions MUST be diluted to the manufacturer's recommendations (look closely, often the proper dilutions are in "fine print" on the chemical's container and may often request that you use more than you need to or should use)

After the recommended time has passed to ensure disinfection, the pad surface should be wiped again with a wet cloth to remove any remaining chemical or solution.
Disinfecting a medical table pad.
Option 1.
Use Lysol Brand III I.C. Disinfectant Spray by Reckitt Benckiser Inc, Montvale, NJ per manufacturer's instructions.
Reference: National Laboratories Item # 36241-95029-3
OPTION 2.
Use a diluted bleach solution of 10-parts water to 1-part bleach.
Wipe dry with a clean cloth.
Do not immerse or soak the pad. Bleach MUST be diluted to the 10:1 ratio.
If you want your medical table pad to last a long time here are some cleaning do's and don'ts.
Cleaning DO's
DO clean all stains promptly.
DO use only fabric-safe cleaning agents or disinfectants.
DO use appropriate quaternary or phenolic type disinfectants if nylon fabric needs to be sanitized.
DO dilute all disinfectants and germicides in accordance with the manufacturer's instructions.
DO wipe fabric clean with neutral soap suds and lukewarm water.
DO rinse thoroughly.
DO allow adequate drying time before returning to service.
DO use a soft sponge with liquid cleaner as specified on the manufacturer's product label for hard-to-clean areas.
DO clean daily to control or prevent odors on long term incontinent applications.
DO use a scented cleaner or disinfectant that is designed for use on fabrics if needed to control odors on long term incontinent applications.
DO disinfect blood contamination with a 1:10 dilution of household bleach (5.25% sodium hypochlorite) as recommended by the CDC (Center for Disease Control, US Department of Health and Human Service, February 1989); a weaker dilution, e.g. 1:100 can be used, but may not be in accordance with CDC recommendations. CDC's Guideline for Disinfection and Sterilization in Healthcare Facilities
DO be aware that staining chemicals and cleaning agents can affect fabric strength, finish, longevity and color.
DO inspect mattresses frequently to ensure that new stains can be treated promptly and that there are no rids or tears in the table pad.
DO ask your support surface manufacturer for additional information related to the care and cleaning of the support surface.
Cleaning DON'Ts
DO NOT machine wash or machine dry. Ok, I was forced to say that, but Duh!
DO NOT use harsh cleaners or solvents ( I know I have said it before).
DO NOT use cleaning agents designed for use on hard, non-porous, or metal surfaces.
DO NOT use iodophor type disinfectants, such as Betadine, because they will stain the fabric.
DO NOT use household bleach or concentrated cleaning agents, disinfectants or germicides without diluting the product according to the manufacturer's instructions.
DO NOT allow any cleaning agent to remain in contact with the fabric or sit on the fabric for a prolonged time.
DO NOT fail to adequately rinse the cleaning agent or disinfectant from the fabric.
DO Not apply tape to any pad. I know this always happens, but try to avoid it if you can. The solvent in the tape's adhesive dissolves the table pads covering.
The information contained herein is offered as being typical for the indicated product. The customer is solely responsible for determining fitness for use.
This company disclaims liability for any incidental or consequential damages resulting from any breach of the express warranty contained herein. The above cleaning recommendations are offered as information regarding commonly accepted cleaning practices for nylon fabrics. No fabric can be made permanently "stain-proof."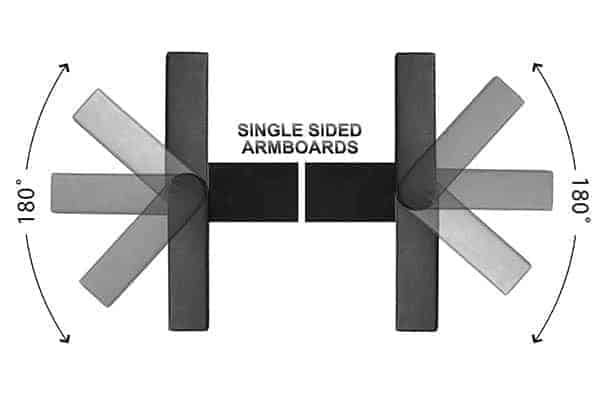 After several years of use many radiolucent carbon fiber arm boards break. It can be that a screw comes out, or if you have a pain management clamp-on style armboard, a clamp may no longer hold onto or even fall off of a c-arm table. Sometimes the cheaper ones will even splinter or crack.
Whatever the case, most of these issues can be resolved by a company that specializes in either radiolucent armboards or carbon fiber arm boards. (In case you noticed the inconsistent spelling, some people spell it "armboard" and others, "arm board") Not all c-arm compatible armboards are made out of carbon fiber (again some people spell it "carbonfiber" or "carbon-fiber")
If your arm boards are broken or malfunctioning in any way, immediately take them out of patient service and call a repair company. You can save as much as 75% off the price of replacing your arm boards with a new pair.
If you have a broken arm board that and want to know if it can be repaired and how much it will cost, just take a picture of the whole arm board and a closer shot of the broken area and text it to 858-336-1377 or email it to [email protected] and we will get back to you ASAP.